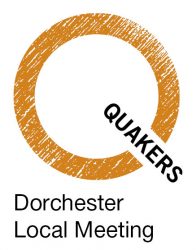 Meeting for Worship
Every Sunday 10.30am
4th Sunday 8.30am followed by discussion and shared breakfast
1st & 3rd Wednesday 12.30 followed by shared lunch
Children's Meeting 1st & 3rd Sunday (2nd, 4th & 5th by arrangement please ring warden)
Our regular Sunday Worship last one hour. Early morning 4th Sunday and mid week Worship last half an hour. All Welcome
Study Group 4th Thursday evening 7.30 pm each month except December
For more information about Dorchester Quaker Meeting click on the menu at the top of this page

Directions to
Quaker Meeting house
8 Holloway Road,
Fordington,
Dorchester,
Dorset,
DT1 1LF
Telephone 01305 263544 (Warden)
email dorchester@quaker.org.uk
Getting to the Meeting house:
By car: enter Dorchester from A35, at roundabout take B3150 London Rd [then first left at traffic lights across river onto B3143 Kings Rd, first right onto Mill St, then immediately first left over bridge onto Holloway Road.] Currently the Mill street end of Holloway road is closed (until August 2019).
The Meeting house and car park are open as usual.
Alternative directions from B3150 London road. At the traffic lights go straight on until you reach a small bridge then turn left into High Street Fordington, keep left until you see a blue house take a left fork into Holloway road. 
There is parking for up to 6  cars
By train: Dorchester South 15min walk or Dorchester West 20min walk
By Bus: stops in Dorchester town centre 10 min walk (limited Sunday services)