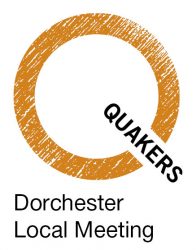 Meeting for Worship
We are not holding Meeting for Worship at the Meeting house from now on 
until further notice. However if you can find a quiet space at home between 10.30 -11.30 on Sunday we can worship together. Quakers in Dorchester will uphold the Meeting and be holding Friends in the light.

The Meeting house is closed to everyone.
Online Meeting for worship is available via Woodbrooke study centre.
For more information see advice from Quakers Britain Yearly  Meeting.
All Welcome
You don't need to be a member to attend a Quaker Meeting for Worship
If you had hoped to visit us we would like to extend a welcome to you once the restrictions are lifted.
Every Sunday 10.30am
Additionally 4th Sunday each month at 8.30 am followed by discussion and shared breakfast except December.
1st & 3rd Wednesday 12.30 followed by shared lunch
Children's Meeting  by arrangement please ring warden
Our regular Sunday Worship lasts one hour. Early morning 4th Sunday and mid week Worship lasts half an hour.
Business Meeting first Sunday in January, March, May, July, September and November.
Study Group 4th Thursday evening 7.30 pm each month except December
Any Member or Attender becoming ill please keep in touch with Friends, especially anyone needing help. We can keep in telephone contact, don't become too  isolated. Ring the warden or one of the clerking team.
Take care everyone and keep washing your hands regularly!
For more information about Dorchester Quaker Meeting click on the menu at the top of this page

Directions to
Quaker Meeting house
8 Holloway Road,
Fordington,
Dorchester,
Dorset,
DT1 1LF
Telephone 01305 263544 (Warden)
email dorchester@quaker.org.uk
Getting to the Meeting house:
By car: enter Dorchester from A35, at roundabout take B3150 London Rd [then first left at traffic lights across river onto B3143 Kings Rd, first right onto Mill St, then immediately first left over bridge onto Holloway Road.]
There is parking for up to 6  cars
By train: Dorchester South 15min walk or Dorchester West 20min walk
By Bus: stops in Dorchester town centre 10 min walk (limited Sunday services)